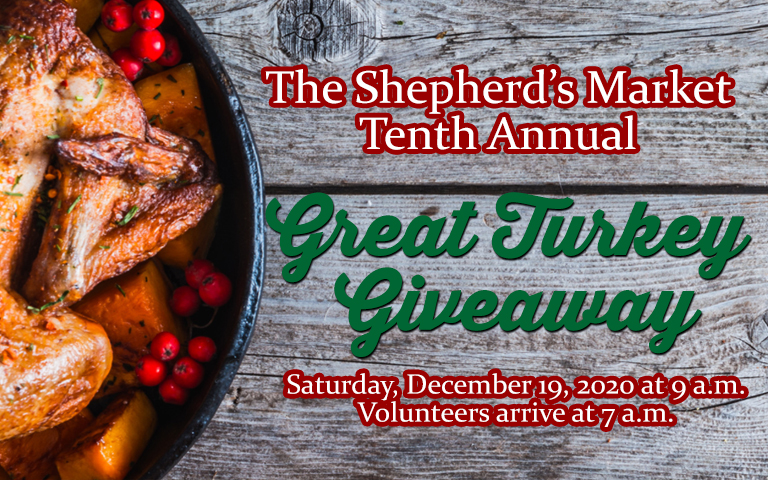 Local Food Pantry Marks Tenth Annual Great Turkey Giveaway
More than 550 Families to Receive Complete Christmas Dinners
Each Christmas, The Shepherd's Market food pantry offers its clients lagniappe, or a little something extra, in the form of its annual Great Turkey Giveaway. Celebrating its tenth anniversary, this year's giveaway on Saturday December 19 is bigger than ever, and 550 families will receive the ingredients for a complete Christmas dinner.
Located in south Baton Rouge on the campus of St. John's United Methodist Church, the client-choice food pantry has always hosted its biggest giveaway of the year as a drive-thru experience. The market's dedicated volunteers easily adapted to the changes required by COVID-19, as by April 2020 they pivoted from offering families in need of a hot meal and an in-person grocery shopping experience to providing food boxes twice a week with a drive-thru operation. The pandemic has not stopped The Shepherd's Market from feeding people.
From a turkey and fresh vegetables to dessert and homemade bread, families will be blessed at the Tenth Annual Great Turkey Giveaway. Volunteers are also blessed by participating in the exciting annual event, connecting with members of the community to celebrate the joy of the season.
"Over the years our feeding ministry has touched countless lives. Those who received food, as well as those who gave food, have all been touched," says Theresa Sandifer, director of The Shepherd's Market, which is entirely run by volunteers. "One might even say that our annual Great Turkey Giveaway is now a holiday tradition for our nonprofit."
University Laboratory School supports the giveaway with its annual One Great Day of Giving, and the school provides most of the side items that round out the meal. Produce is provided by the Greater Baton Rouge Area Food Bank, of which The Shepherd's Market is an official partnering agency. This year the pantry has partnered with Rouses Market on Burbank, which will deliver the turkeys on the morning of the Giveaway.
Those who would like to support The Shepherd's Market's feeding ministry and the Great Turkey Giveaway can make a donation via PayPal from www.shepherdsmarket.org/donate. Families in need can open a file by visiting the pantry during a regular shift, Tuesdays and Thursdays from 8 to 10 a.m. First-time clients will need a picture I.D. and proof of current address. The pantry's focus area includes zip codes 70808, 70809, 70810 and 70820, but they serve any family in need.
About The Shepherd's Market
The Shepherd's Market is the largest project of Opening Doors, a Louisiana Nonprofit Corporation. Opening Doors is a 501(c)3 nonprofit, and all donations are tax deductible to the extent allowed by law. We operate on the St. John's United Methodist Church campus. www.shepherdsmarket.org